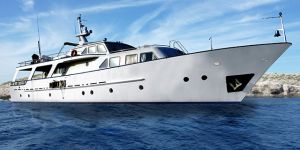 Diving safari is a completely different type of holiday, pleasure relaxation and adventure in one. Relax and join us in a new day on board M/Y Agramer I. The day starts with a rich and varied breakfast. After introduction of the location and the detailed plan we start diving into the azure blue tour of the magnificent underwater world.
After returning from the first dive there is still enough time for individual activities, just until the luring smells of magic that our cook prepared in the meantime announce lunch.
Again reinforced with the good food and a majestic drinks we can let go to all the charms of a holiday on M/Y Agramer I and enjoy the second dive in a day. After the second again professionally organized dive it is time to remove the salt under the warm shower.
Until serving of the evening meal, everyone can create the time and activities by their own wishes, and we finish the day by anchoring in one of the thousands of beautiful bays along the waterfront or by the shore of a picturesque Adriatic town.