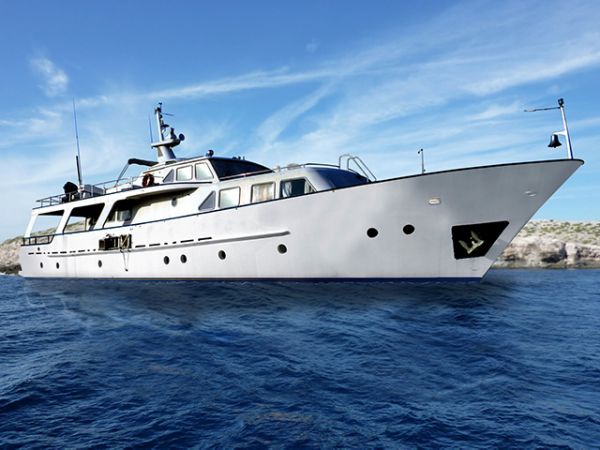 M/Y "Agramer I" is a 25 meter, very comfortable De Vries Lentsch motor yacht, built by the well known shipyard, Tecnavi s.r.l., in Italy. This ship was rebuild for all needs of divers and offers enough space for max. 12 people. It is running by a Croatian management. Elegant interior with parquet floors in living room and carpeting in the cabins. The six comfortable separate sleeping cabins: n.1 Guest cabin with double bed and n.5 Guest cabins with single bed, with ensuite bathrooms, air conditioning, heating, 220 V-plug sockets as well as storage space. Through two portholes each cabin will get enough fresh air and daylight.
M/Y "Agramer" offers a sun-deck, a fly bridge and a divers deck. A modern equipped cosy salon, a dining area, a bar, Wi-Fi and TV/DVD corner is to your disposal. A diving platform with two bath leaders make it very easy stepping in and out of the water. There are 2 showers for a quick rinse after the dive.
15l steel diving tanks/twin valves as well as weigths are already on board.
The tanks will be filled rapidly so you won't miss out on any diving. They are filled quietly as well as the compressor (600 l/min.) is located below decks. The dive deck has been designed with comfort and convenience. Each diver will be assigned his or her own station and gear will remain set up during the entire cruise. Tanks are filled at this station, so you never have to worry about moving your equipment except to get in the water. Personal gear is stored at your station in boxes, and wet suits are hung up to dry on our custom rack.
MORE
---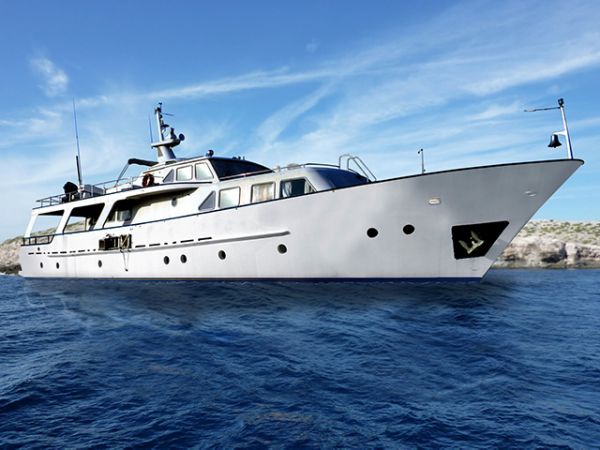 Diving safari is a completely different type of holiday, pleasure relaxation and adventure in one. Relax and join us in a new day on board M/Y Agramer I. The day starts with a rich and varied breakfast. After introduction of the location and the detailed plan we start diving into the azure blue tour of the magnificent underwater world.
After returning from the first dive there is still enough time for individual activities, just until the luring smells of magic that our cook prepared in the meantime announce lunch.
MORE
---