"Ionian islands" diving tour
"Ionian islands" diving tour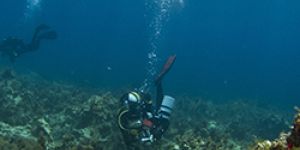 From the port Lefkas it goes in a southerly direction, passing the many interesting Ionian islands, with a very interesting dive spots for beginners and advanced divers.
The enjoyable water temperatures, the crystal clear waters around the islands, the lights in different shades of blue, as well as the partial incredible visibility are just some highlights. Among these are dive sites with unique flora and fauna, wrecks, caves, tunnels, walls, coral, amphorae, etc. The exact location of diving are agreed in common (by the commander, head diver and diving group), and according to the present weather conditions and qualifications of the certain group.
Quiet, beautifull and picturesque island world of Ionian Sea with small natural bays and ports, little villages with a Mediterranean flair and ancient sights offer us a variety of accommodation facilities at anchor or pier.