North Adriatic diving route
North Adriatic diving route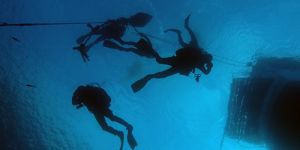 Northadriatic route covers approximately 220 nautical miles of sailing between the very diverse and picturesque islands of the northern Adriatic Sea.
Following this route there available are diving locations around the island of Krk (wreck, canyon,rocks ),Plavnik (underwater cliffs, the canyon), Cutin (underwater wall), Crna Punta (the wall, caves), Premuda (system of caves"Cathedral", the wall ), Unije (wreck, wall), Cres (wreck, rocks, wall).
In addition to fascination of underwater and coastal landscapes there is impressive underwater life in the fields gorgonias, octopus, crabs, groupers and more.
The route largely depends on local weather conditions (we, of course, always wish for a stable and good weather!), as well as the wishes of our guests. Therefore we are very flexible when planning the selected route. The overnights during the route we organize in the beautiful bays or harbors of our idyllic islands.
The diving safari starts and ends in each case Saturday in Jadranovo near Rijeka.
Guest check-in - Saturdays from 4 p.m.
Guest check-out - Saturdays until 9 a.m.
The prices are as follows:

01st January - 31th December 2024
1.250,00 Euro/person
Minimum members of guests: 8 persons
Included in the price are:
Full board service (breakfast, lunch, Coffee, dinner)
7 overnight accomodation in double cabins on board
Harbour charges, gas
2 dives per day incl. dive tanks, filling (air), weight
Night dives (not mandatory) incl. dive tanks, filling (air), weight
Not included in the price are:
Additional dives
Entrance fees for national park
Soft and alcoholic beverages etc.
Tax (1,50 €/pers./day)