The wreck of Kvarner diving safari
The wreck of Kvarner diving safari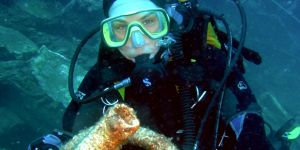 For all "WRECK DIVER" and "TEK DIVER" We designed this safari through seven days in Kvarner.
In the seven-day safari, we chose for you six wrecks of sunken ships of Kvarner. Wreck PELTASTIS (max 36m), wreck JAKLJAN (max 49m), wreck LINA (max 52m), wreck VIS (max 32m), wreck VIS (max 58m), wreck SIGRID (max 32m).
The diving safari starts and ends in each case Saturday in Jadranovo near Rijeka or Rabac.
Guest check-in - Saturdays from 4 p.m.
Guest check-out - Saturdays until 9 a.m.
The prices are as follows:
01st January - 31th December 2024

full charter bookings only on request

Included in the price are:
Full board service (breakfast, lunch, Coffee, dinner)
7 overnight accomodation in double cabins on board
2 dives per day incl. dive tanks, filling (air), weight
Night dives (not mandatory) incl. dive tanks, filling (air), weight
Harbour charges, gas

Not included in the price are:
Entrance fees for national park
Soft and alcoholic beverages etc.
Tax (1,50 €/pers./day)
SAFARI PROGRAM