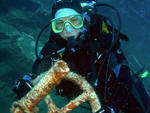 For all "WRECK DIVER" and "TEK DIVER" We designed this safari through seven days in Kvarner.

In the seven-day safari, we chose for you six wrecks of sunken ships of Kvarner.
Wreck PELTASTIS (max 36m), wreck EL HAWI STAR (max 42m), wreck LINA (max 52m), wreck TIHANY (max 38m), wreck VIS (max 58m), wreck SIGRID (max 32m).